2008年03月11日
久々に仕事の関係で東京へ出張に行っていました。
アポイントの合間を見計らって立ち寄ったエチゴヤさんで、以前SATマガジンさんのブログに掲載されていた「謎」の電動ガンを見る事ができたので投稿してみたいと思います。
●
なんだこれ! - SAT第2編集部
SATマガジンさんのブログでは写真のみの掲載で言及こそしていないものの、これはKnight's Armament Companyの5.56mm LMGではないでしょうか。
そういえば以前に海外のRedWolf Airsoftさんでもこの「Knights Armament Stoner LMG」が取り沙汰されていた事がありましたね。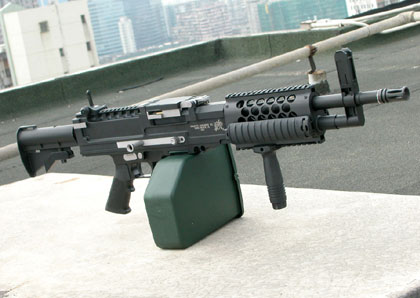 そしてこの「KAC LMG 5.56mm」(実銃)について、早速ナイツのサイトを調べてみました。
The Stoner Light Machine Gun(LMG) is a shiningstar in the Stoner line-up. It belongs to a class generally lighter than other LMG is one of the first belt-fed 5.56mm LMG and as the result, weights considerably less and concusively the ultimate compact LMG.

The Stoner Light Machine Gun(LMG) was developed by Eurgene Stoner in early 1980s to rival the FN in Squad Automatic Weapon(SAW) trails.
Altohug the initial design was revolutionary. It was not freed of glitches and later bowed out of these against FN which later became M249 Mini "new gun".

The design of Stoner LMG pays homage to the legend stoner 63. Eugene Stoner's initially goal was to develop a light weight machine gun as a supplementary weapon for infantry soldiers to discharge greater volumes of continuous automatic fire than their usual standard firearms.

Eurgene Stoner was determined to make Stoner LMG a better and leaner LMG that Stoner 63. KAC took Stoner's design a few steps further after years of R&D. Their dedication finally pays off. The current KAC Stoner LMG is a light weight and yet powerful machine gun that tops it peers. Extensive testing's conducted on Stoner LMG have proven its superior contorollability thanks to its weight, the lowest in LMG class ever developed. KAC Stoner LMG is not yet full scale production but can certainly meet client demand for increased portability and controllability step up from the currently in service 5.56mm machin gun.

【Specifications】
Caliber: 5.56mm Belt Feed
Rate of Fire: Full Auto - 550rpm
Magazine Type / Capacity: Belt
Weight(w/o Magazine): 10lbs
Length w/Stock Retracted): N.A.
Length w/Stock Extended): 35 1/4"
Barrellength: 12.5"

このStoner LMGは、Light Machine Gun(LMG)という属性の中では他のどのLMGよりも軽量に造られているのが最大の特徴のようです。
上記引用箇所にあるとおり、このStoner LMGは80年代に最大のライバルとなっていたSAW(Squad Automatic Weapon)を更に改良したものとして送り込まれたそうです。
●
Eugene Stoner - en Wikipedia
●
Stoner LMG - en Wikipedia
●
Stoner 63 - en Wikipedia
この5.56mmのStoner LMGは、そのコンパクトさと軽量さからPMCでも広く使われているとの記載がWikipediaに掲載されており、いまだ流行衰えないPMCスタイルでのゲームに、このStoner LMGが登場する日が近いのかもしれませんね。